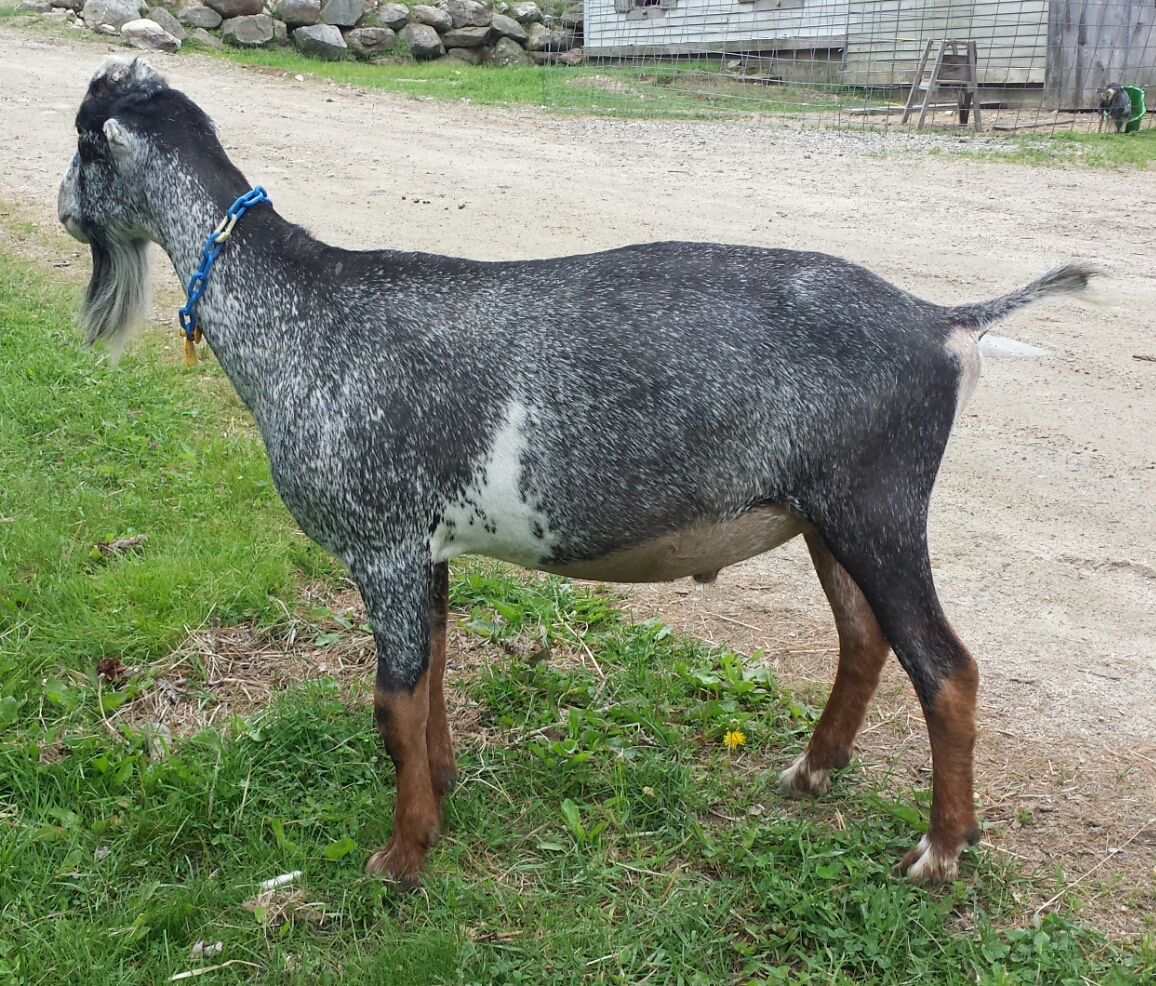 *B Lucky*Star's RA Display

CULLED
DOB: 6/26/2013
LA 1-02 GP 83 V++
Alpha S-1 Casein: B/F
*DNA* On File
Sire: CH *B Rockin-CB Aces Around
- LA 2-06 Ex 91 EEE
- Avg. FS 87.3 over 3 appraisals of 3 daughters in 2 herds
Dam: SGCH Lucky*Star's LOT Xhibit
- ADGA Elite Doe, #1 2013
- LA Ex 92 EEEE at ages 3,4 & 5
- 2* Milker with 5 lactations over 4000 lbs.
- 97th Percentile rank for production, +$35 fluid merit
- 2013 & 2010 Breed Leader for Production
- 2011 Supreme All American LaMancha doe

Having long admired the Lucky*Star breeding program and their beautiful animals (especially Xhibit and Vivian), I started the thought of adding a new doe line to expand our genetic base. As fate would have it, or as my luck would have it more appropriately, we were very thankful and excited to bring in some of the very best Lucky*Star genetics with Display thanks to Don and Judi Hoy. Play was used heavily on all of our dam lines in 2014 and produced a few nice kids for us. However after losing nearly 50% of his kid crop (24 in total), we became greatly concerned. From birth affected kids would show signs neonatal neurological hypersensitivity, lacked of suck reflex and had large pharyngeal openings that filled with mucus (not true cleft palate) resulting in death within 72 hours of birth despite round the clock nursing in most cases. Less affected individuals lingered on producing audible nasal noises and produced copious mucus from nostrils while coughing with every meal. We also had 5 kids we felt were affected with dwarfism. Nearly all of the kids that perished were roaned to some degree, it was explained to us by the Hoy's that the roan color is highly heritable. It is unfortunate when genes do not cooperate and do the things you think they should. We feel it is important to be open and honest about our experiences. Upsetting and expensive as they were, we do not feel our experiences were anyone's fault. The stars simply did not align for us.

CAEv was identified on our farm 8 months after the arrival of Display. Display, the bucks he was housed with, three of the kids he was reared with along with all five does he was pen bred with all test positive at our 2014 fall test. Our 2013 spring test was all negative as it had been since the herd's inception and re-inception in 2007. We attended two club shows that summer with 10 goats. Due to what we believe to be pre-identified CAEv exposure, we have been testing and culling our adult stock as they convert. This has been devastating and we have found the strain(s) involved to be malicious and efficient at causing milk loss, complicated clinical mastitis and enlarged joints.

We cannot stress enough the importance of testing if you wish to maintain a test negative herd and because of this experience have adopted the staunch policy of testing all of our kids reared on prevention monthly as well any new goat to the farm regardless of age to identify at risk animals.